New company website – Kivikko Towing Service
New company website
The new company's website project for the Helsinki Carwash Service was initiated by a client in mid-September. The question was a completely new business for the company and they had some idea of what the website should be. When agreeing on the business project, it became clear that we could build a website with a price range of 640 € – 1000 €.
As a company, we visited Kivikko in Helsinki and signed a contract for a new company website on a turnkey basis, i.e. we reserve the domain www.kivikonhinauspalvelu.fi and use the hosting service for our company. At the same time, we went through questions related to the content of the site.
What is a good website for a business?
A good website is clear, easy to use and visually appealing. They are also optimised for search engines, with good navigation and well-organised content. They must also be compatible across different browsers and devices. Most importantly, they must meet the needs of the users and support the objectives of the company or organisation. We try to take these factors into account in the website building process.
A clear website is…
The clear website structure is simple and intuitive, providing users with an easy way to navigate. Important elements are usability and clarity of navigation, clear and understandable content headings, and good organisation of content. It is also important that the website has a clear and coherent look and feel that is consistent with the visual identity of the company or organisation. In addition, the website must be optimised for search engines so that it can be easily found in search engines.
Do you need branding alongside your website?
If you are a start-up entrepreneur and don't have your own graphic design, we can build it together with your company. Get an easily replicable and consistent style for your website across your business! When we built the website for the stone cutting service, we made a logo for them, and we designed the colour scheme according to their wishes.
Easy-to-use websites are…
Easy-to-use websites are websites that are clear and intuitive to navigate, and easy for users to understand and use. They are designed so that users can find information or functions easily and quickly. Important elements include a clear organisation of content, usability and navigation, and the website must be compatible with different browsers and devices, and include the necessary functionality such as forms and links.
Need functionality for your new business website?
Website functionality serves your customers and creates the conditions for a better experience of your business. At the same time, your company can save on employee resources by having some of its services offered through your website. Functionalities can be, for example
Appointment calendars; an electronic appointment calendar for allocating your company's customer interfaces and employee resources.
Calculators; Calculators help the customer to understand the pricing of services or products and the overall cost structure.
With us, your company can have a website to serve your business and your customers!
Click on the image to view our appointment calendar. We offer a range of options for electronic calendars.
Small business website
When setting up a website for a small business, it is a good idea to consider the following. A website that is clear, easy to use and provides the necessary information about the company's activities and the services it offers is sufficient for a small business. Elements that are important for a small business include basic information about the company, such as contact details and location, a clear description of the services or products it offers and the possibility to contact the company. In addition, the website should offer easy and clear navigation so that the user can easily find the information they need. The website should also be optimised for search engines, so that it can be easily found in search engines. It is also important for a small business that the website matches the company's visual identity and is consistent with the rest of the company's marketing.
Does your small business need a new website?
Most customers first get to know a company through its website. Whether you are a large or small business, a website is often the first business card to your website. We can get your small business a new website that is efficient, good looking and optimised.
Structure of the new company website
Too much is too much and too little is too little. As suggested above, the structure of a new website for a small business might look like this.
Business introduction page (landing page) – the part of the page where the customer usually arrives for the first time. It creates the first impression of your business.
Product or Service page – this section of the website explains the services your company offers. From this page you can link to a more detailed service description page (subpage). Of course, the size of the company and the service it provides will make a difference.
Contact page – of course you want your business to be found through your website.
What does a small business website cost?
We make it easy to get started! The above example website in our service package costs 200€ – an initial fee, after which once the pages are ready for delivery and approved the website will cost you 25€/month. This is the total price for everything! See our service content!
New company website – construction and process
Setting up a WordPress site takes place in several stages. First you reserve a domain, then you take a webhost. We offer these to the customer in our total solution.
Installing a theme
Kivikko's towing service uploaded our Diviteema, an easily customizable premium class theme that the customer can access through us. In addition, we fixed the tried and tested basic add-ons related to site speed and SEO optimisation. If you would like to learn more about this, I recommend you take a look at the tutorial video below. Personally, I have learned and still learn many times through instructional videos.
Layout for the new website
After a few days, we sent the company a copy of the new website layout proposal and it was approved. The website itself took about two weeks to build. We often use pre-designed layout styles, saving you time and money, while allowing you to focus on a better customer experience and other website functionality.
New logo for the company
We also created a logo for the company, and the basis for a Google business style. We want and are able to serve companies with a comprehensive approach to network solutions. New and start-up companies will particularly benefit. If your business needs a visual makeover, you should ask us for a service solution.
Light seo-optimisation for websites
The company's new website was partly optimised for search engines. Often local optimisation of sites (LocalSeo) is a rather demanding process, but for this project it was not carried out as a whole. GT-Metrix gives a site speed of 98% / 100%. Speed is often an important factor when aiming for search engine optimisation.
Tutorial video on wordpress theme
High quality background machinery for your WordPress site.
WordPress hosting service and Domain.
Sales and device-optimised websites.
For the restaurant sector, also mobile app integration.
The price-performance ratio is excellent, as is the personalised customer relationship and contact.
The entire service segment through our company.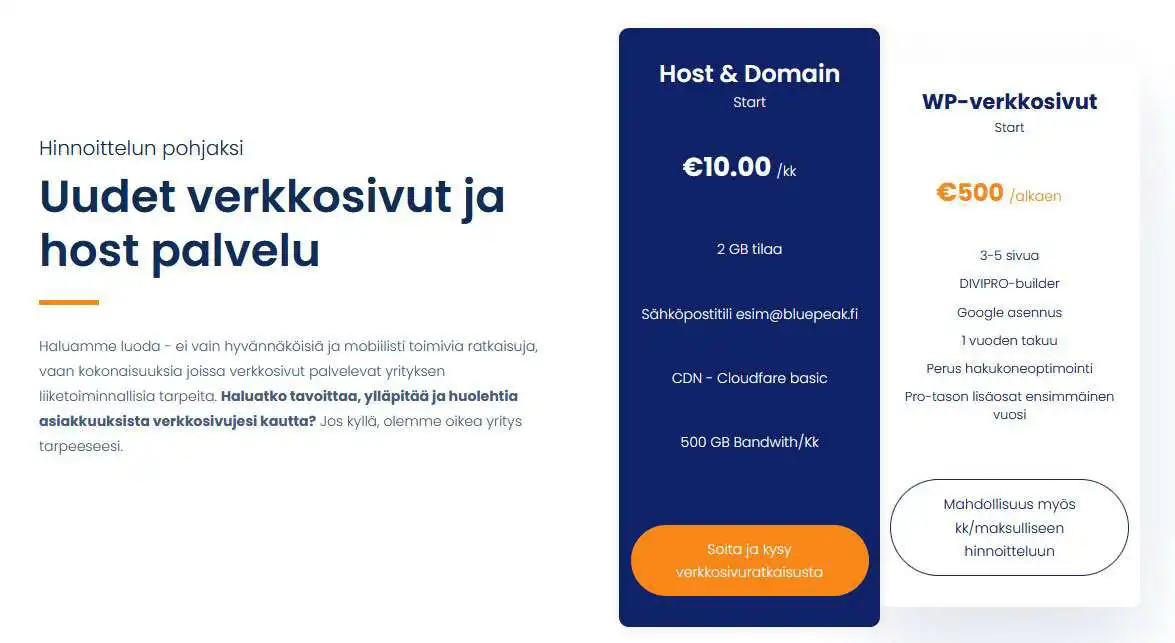 Check out our WP website services and pricing
Our company also manages the website at the host level and the website was guaranteed to be functional . You can check our pricing for hosting and domains here. Our company offers this service only to our WordPress website customers and not to others. We want your entire website to be in good hands.
We offer a monthly fee-based option for building and maintaining your website.
New company website service content
We can provide you with a complete solution for your new business website. For us, a total solution means the following.
Domain – We get you the domain you want and deposit it in our webhosting account.
Hosting – We create a hosting environment of the size and scope you need.
Maintenance and updates – We will update and guarantee your website's responsiveness in the event of any functionality issues with your business website.
Quality and functional add-ons – We want to build your site with tested and reliable solutions. Our pricing always includes this.
Seo-optimisation – We will carry out the seo-optimisation of your company's website according to your wishes. Please note that this is a gradual and evolving process, so to achieve an excellent result it needs mutual commitment to the development of the site.
WordPress platform – WordPress is the world's most popular website platform. It allows scaling of business website solutions to almost any format. You can check out the wordpress platform here. https://wordpress.com
Do you want to pay for your business website service for one or three sites?
From now on, you will receive your invoice from the same place, from us. Your business does not have to pay separately for the webhosting and domain administrators, as well as the website builder. You will receive an agreed invoice from us every 1/2 year, which includes all invoicing related to the maintenance and operation of the website.
Customer feedback
Websites

www.kivikonhinauspalvelu.fi

has now been launched in October 2022 and customers are satisfied with the service they receive.
Follow our company and its development via Facebook. Subscribe to our website, just in case you ever need a new corporate website.
Contact and get to know us
Check out our website service solution on our WordPress websites and hosting page